Blockbuster
Map Size

Small

Game Mode
Max players

12

 
Blockbuster is a small-sized Deathmatch and Chaser map. It is the smallest map in S4 League.
It consists of a hexagonal floor pattern which is completely breakable. This map is made for Death Match and Chaser Mode matches, mostly for Short and Mid Range Weapons. Though it is small it does have both a Ground Level and a Upper Level but each hardly vaires. The floor tiles are stacked upon one another but some floor pattern have different amounts of tiles underneath. If a player falls through it will count as a suicide kill unless the player has taken a high amount of damage from another player, in that case a kill point is given to that player. In Chaser Mode, however, suicides will grant kill points for the Chaser.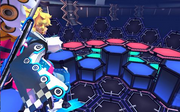 Places of Interest
Edit
Short-Mid Ranged Weaponry
Long Range/Sniping
Ad blocker interference detected!
Wikia is a free-to-use site that makes money from advertising. We have a modified experience for viewers using ad blockers

Wikia is not accessible if you've made further modifications. Remove the custom ad blocker rule(s) and the page will load as expected.