"

Practice S4 League the easy way

"



 

— Tagline 
Mission Arcade is a game mode in S4 League. It was released during Alice. It has two sub-modes, which is Learn and Challenge.
Learn serve as weapons tutorial. It teaches the player how to use a weapon.
Challenge
Edit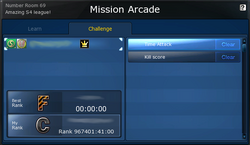 Challenge is in the Mission Arcade mode. It has two type of challanges, Time Attack and Kill Score. Time Attack is where you kill a certain amount of the small bots you see in the Learn tutorials and the objective is to kill the amount that is shown on top of the screen. Your score will be based on how long it takes you to kill that many bots. In Kill Score you try to kill as many bots you can in a certain time frame. The score of course is based on how many you can kill. These two challenges serve no real purpose but you can get 500 PEN each for completing them for the first time.
Ad blocker interference detected!
Wikia is a free-to-use site that makes money from advertising. We have a modified experience for viewers using ad blockers

Wikia is not accessible if you've made further modifications. Remove the custom ad blocker rule(s) and the page will load as expected.