The Supersonic Tournament, once a Korean only Tournament, started off in 2012 in the European Client and will be repeated once a year. The tournament is played by several teams which consist of 4 players, equipped with PEN stat gear. The teams have to try to beat all opposing teams in different Touchdown-Maps and achieve 2 out of 3 winnings against all opposing teams. This tournament is the most anticipated Tournament because of its rare prices, which consists out of a rare accessories (1 year) and a golden weapon (permanent). Moreover the players got a set of their choice and could decide which colour and stats the set should have. Last but not least they also got a relative big amount of AP (now GC).
Supersonic Rewards
Edit
This accessories was rewarded for 1 year to the winners. It has the same stats as a pet but is enchant-able like an accessories. It will be removed after 1 year or when the next Supersonic Tournament starts.
Currently there were only 4 weapons* with a golden reskin available: Plasma Sword, Counter Sword, Smash Rifle and Hand Gun (the amount could increase with the next Supersonic Tournament.) The stats can be chosen from 1-10% or a Force Pack variant. 
*As of Season 8: Neo-Netspehere, two new golden weapons can be acquired (1 via the tournament as a prize): Golden Gibson Plasma Sword and Gold Chain Counter Sword.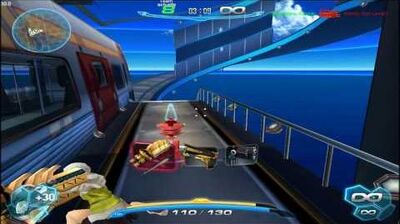 Ad blocker interference detected!
Wikia is a free-to-use site that makes money from advertising. We have a modified experience for viewers using ad blockers

Wikia is not accessible if you've made further modifications. Remove the custom ad blocker rule(s) and the page will load as expected.